Hey hey hey there! Today, The Murder Complex blog tour is droppin' by the blog. Check out the books below, my review and of course, a giveaway! 🙂
.
Publisher: HarperTeen Impulse
Release Date: May 27th 2014
Rate: 
*YOUR RATING*
Synopsis:
Meadow Woodson has been trained to survive. This is a prequel to The Murder Complex, by Lindsay Cummings, and it is set in a blood-soaked world where the murder rate is higher than the birth rate. For fans of Moira Young's Dust Lands series, La Femme Nikita, and the movie Hanna.
Meadow Woodson's father calls it The Fear Trials, and it is a rite of passage in their family. Meadow is up against her brother Koi. The Fear Trials will both harden her and make her brave. If Meadow wins, she will get a weapon of her own and the right to leave the Woodsons' houseboat without her father or mother at her side. Set in the violent, complex, and mysterious world of The Murder Complex, and introducing Meadow Woodson—a teenage girl trained to survive no matter what the cost—and her family, who are together for the last time on their houseboat in the Florida Everglades.
Follow the FFBC The Murder Complex + Fear Trials blog tour and don't miss anything! Click on the banner to see the tour schedule.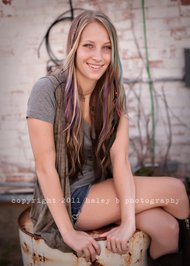 Lindsay Cummings is the 20-year-old author of THE MURDER COMPLEX, as well as its sequel, coming 2014 from Greenwillow Books/HarperCollins, and the MG trilogy THE BALANCE KEEPERS, coming Fall 2014 from Katherine Tegen Books/HarperCollins.
Lindsay deals with chronic fatigue, can't get enough of her two pesky German Shepherds, wolf cub, and two horses. She's still waiting on her letter from Hogwarts–it was probably just lost in the mail. You can follow Lindsay on twitter @lindsaycwrites
Win (1) of (3) signed hardback of The Murder Complex + swag pack (US Only)